Preventing towering inferno's
High risk buildings, such as skyscrapers, hospitals etc. are divided in fire compartments. In case of fire, a fire compartment must hold the fire at least 2 hours to avoid the spread of fire and to give people enough time to escape. To accomplish fire proof compartments, the joints and seams between fire compartments must be sealed in a fire proof manner. This sealing, called a passive fire protection, is crucial to prevent fire from spreading.
FIRETIGHT® is a passive fire protection for building details that are the most vulnerable in general. In the comparison on this page you can see why FIRETIGHT® should be the standard in every building.
DEVELOPMENT OF A FIRE
IN A HIGH RISE BUILDING
Without FIRETIGHT®
CONSTRUCTION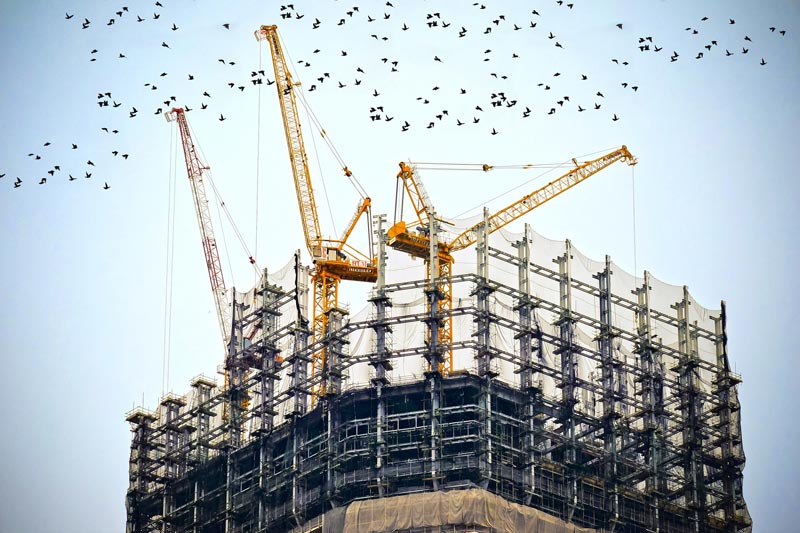 Skyscrapers and high-rise buildings often represent the highest, most beautiful and certainly most advanced buildings in the world. The requirements of constructing such a building are extremely high. Unfortunately, in the distant past we have seen some terrible examples of fire-related disasters.

With FIRETIGHT®
INSTALLING FIRETIGHT®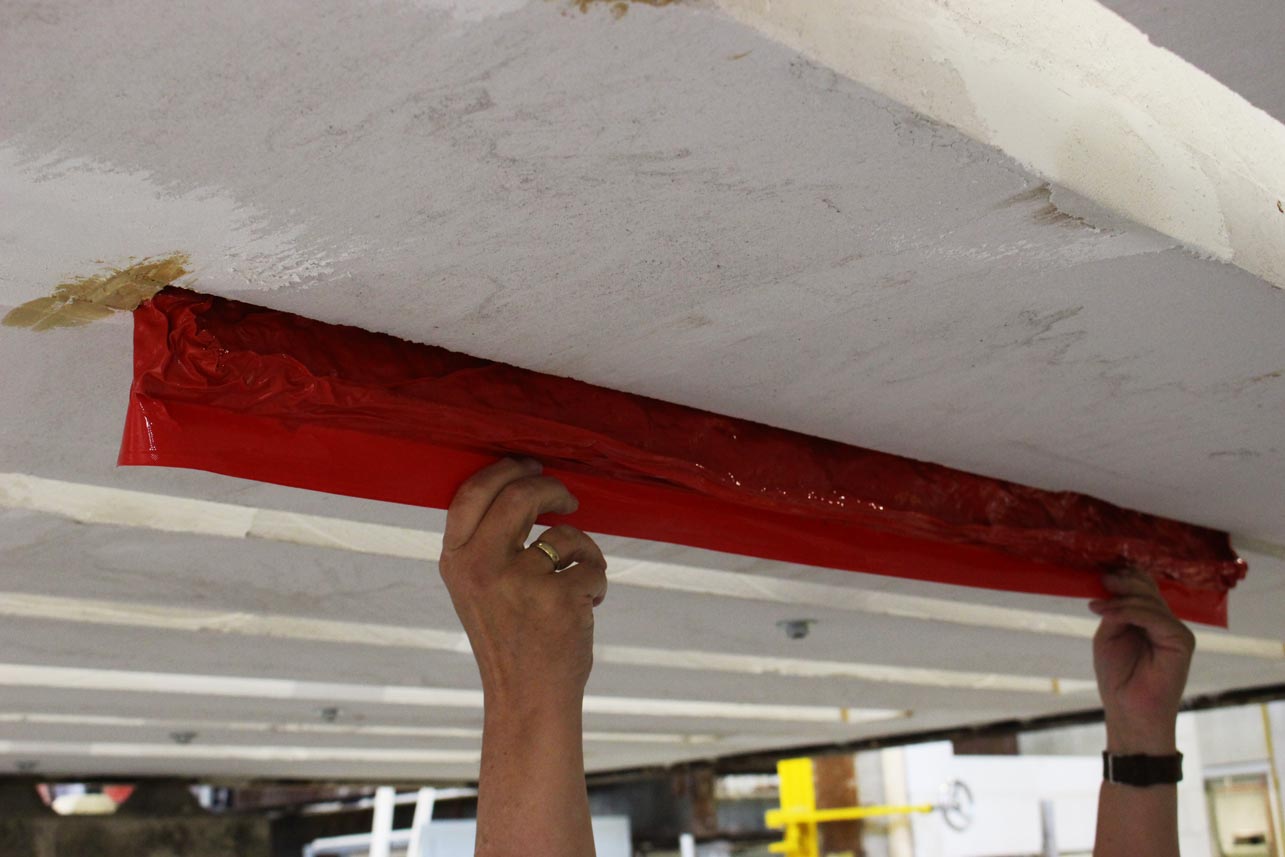 A fire in a building without proper passive fire protection is a disaster waiting to happen. Even with the high standards of current building codes a tested and proven product can perform poorly when not installed correctly. It used to be practically impossible to place fireproof materials in seals during the building process. But FIRETIGHT® is especially designed for an easy, quick and secure installment.
There are many causes why a fire might start. But when a fire starts, it expands at an alarmingly fast rate. A building is typical furnished with a range of flammable items like chairs, paper and desks. Not to mention the use of unsafe building materials like carpet, curtains or drapes. A fire can spread extremely fast.
You cannot always prevent a fire from happening, so a good passive fire protection is very important. FIRETIGHT® can help you reach the highest passive fire protection the users of your building deserve.
Within
10 minutes

after the start of the fire
Without FIRETIGHT®
The fire starts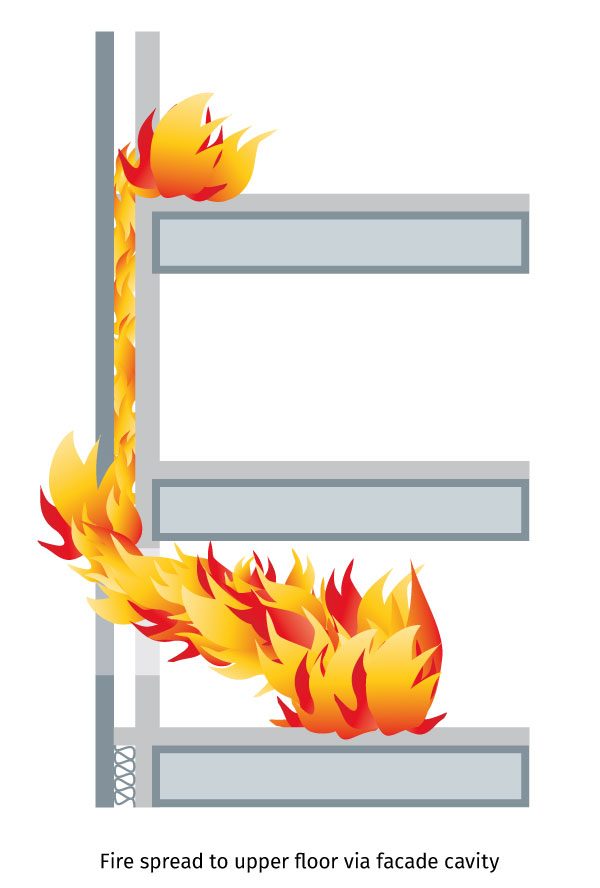 Within minutes the fire can spread through a building. The chimney effect (or stack effect) is the main reason for this rapid fire spreading. The chimney effect is the effects that takes places when a heated surface creates an upward air movement. This hot air movement sucks in hot gases and flames and causes the spread of fire upward through available openings. Openings that typical go unprotected are the openings between the floor slab edge and the curtain walls: an ideal path for a fire to reach all floors in a very short span of time.
With FIRETIGHT®
The fire reaches the FIRETIGHT®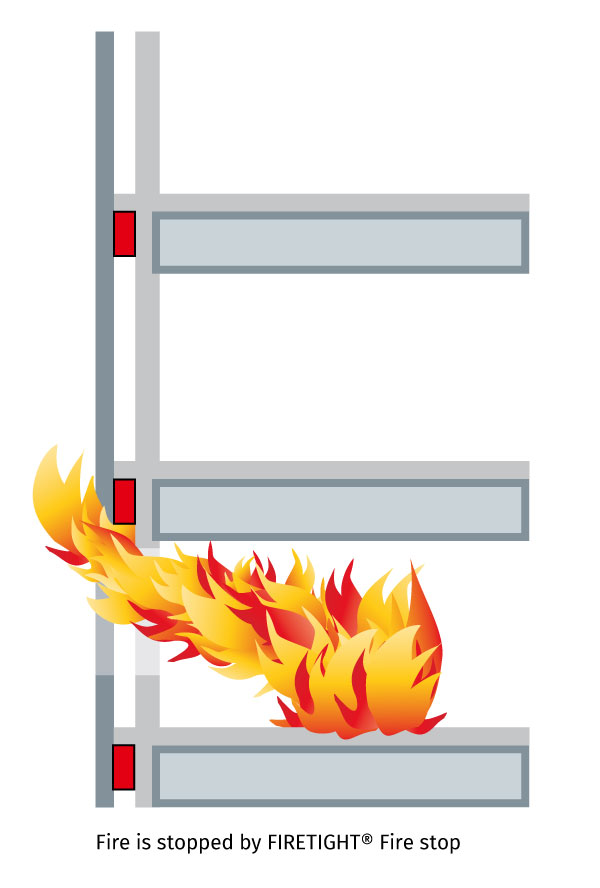 Linear joints are the most vulnerable when it comes to fire spreading. But when the fire reaches a temperature of 190°C and meets the linear joint seal, the FIRETIGHT® automatically expands and creates a fire stop. This fire barrier prevents the fire from spreading to adjacent rooms or floors.



Within
2 hours

after the start of the fire
Without FIRETIGHT®
The fire REACHES THE TOP FLOORS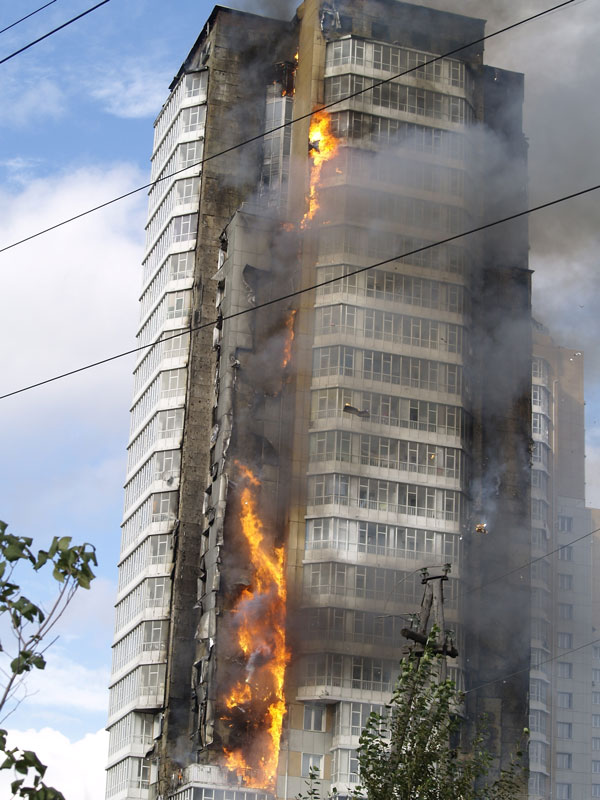 There are examples of fires reaching more than twenty floors within thirty minutes. As the fire rages from fire compartment to fire compartment, evacuating and rescuing people on the top floors becomes an unfair and sometimes impossible challenge. Fire escape routes get blocked by the fire and fire fighters can only reach trapped people from the outside.
To make evacuation or rescue possible, a good fire resistance of the construction and escape routes is highly important.
With FIRETIGHT®
The fire can be extinguished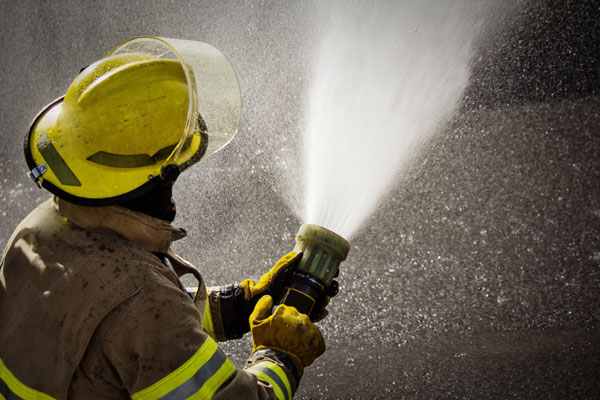 Standard protocol for fire fighters is to instruct people in burning buildings to stay in their (fire) compartment and wait to be rescued. Rescue can then take place swiftly and controlled as only a part of the building is on fire and with the effective passive fire protection in place, spreading takes hours.



Without FIRETIGHT®
FROM FIRE TO INFERNO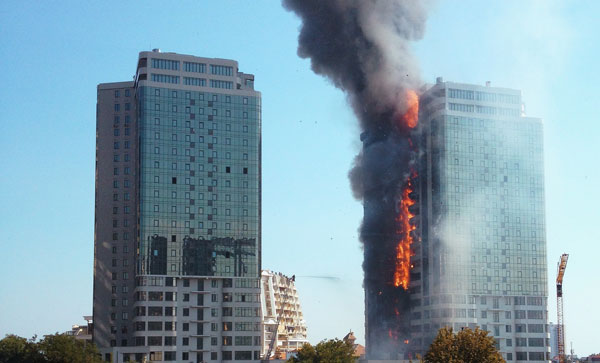 As the fire reaches the top floors of the building, the fire becomes very hard to extinguish. The fire keeps spreading horizontally and the damage keeps increasing.
After the fire, the real damage is revealed. In most cases the owner of the building is responsible for a good fire protection. A building must be constructed in such a way that it ensures people to be save, especially in case of a fire.

With FIRETIGHT®
The fire IS CONTAINED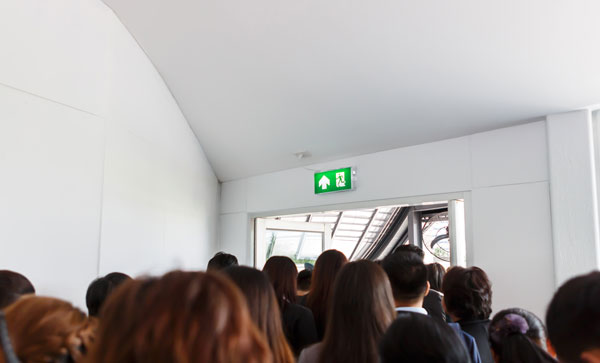 In combination with active fire protection (sprinklers for example) and other passive fire protection products,
FIRETIGHT®
makes sure fire is more easily contained and thus save lives.
By literally filling the gap of the most vulnerable and most difficult details to make fireproof in construction, professionals recognize the valuable addition FIRETIGHT® has in achieving a superior passive fire protection.
FIRETIGHT®
is an essential addition for a passive fire protection of joints and seams in high-risk buildings. Vulnerable seams can now be protected easily. According to the
Efectis report
and professional builders, fire fighters and other experts,
FIRETIGHT®
plays a crucial role in the protection of building users.
How can FIRETIGHT® protect your project?
Passive fire protection is an expertise, our expertise. Do you want the best solution for your project?
'S-GRAVELANDSEWEG 246
3125 BK SCHIEDAM THE NETHERLANDS
+31(0)10 – 30 20 200
verkoop@alertisolatie.nl
© ALERT INSULATION 2018, All right reserved